Rheinwerk Social Media Marketing Days 2019 in Cologne
January 15th, 2020
7 min read
While reading the program of the Social Media Markteting Days 2019 in Cologne, I was already intrigued by its promising sound. Thus I set off for the big day and found my way to the COMED on 18th November 2019 in the modern media harbor situated in the southern part of Cologne. The event started early. By 8 o'clock the first Fritz Cola was opened and I could smell a slight hint of coffee in the air. Marketing Manager of the Rheinwerk Verlag, Hendrik Flanagan-Wevers was the first to speak. As initiator of the Social Media Marketing Days he gave us a short welcome and introduced the first lecture of the day. This lecture remained in my mind for quite some time…
Event breakdown and highlights
Keynote: Verena Lammert
&

Clare Devlin from @Maedelsabende
Verena Lammert and Clare Devlin run the Instagram channel @Maedelsabende, which is sponsored by the WDR. The account has already been honored by the Grimme Online Award. That's why I was looking forward to their speech with sheer excitement. The two gave interesting insights into the processes behind the account talking about storytelling and community management. Although their posts look simple and playful, there is a lot of work in the making. Aside from their most important KPIs such as the interaction or termination rate, they showed us how to turn an Instagram account into a real girls' night with exciting topics to talk about. In addition Verena and Clare revealed, how they distribute individual subjects and time frames, which apps they preferably like to use and how an overall theme develops into a whole weeks' concept with fascinating stories and various posts. In a nutshell it was one of the most inspiring insights I was getting for a long time. The lecture took almost one hour and guided a perfect start into the day…
From this point forward, the large crowd of visitors parted and attended the speeches most relevant for their own interests. Hence there were continuously three presentations with different topics going on at once. I felt a little desperate with the necessity of choosing a topic since I really wanted to attend all of the talks. Fortunately my fear of missing out was soothed immediately as I heard they'd film the lectures and sent them to us afterwards. Perfect! Now I was able to enjoy specific speeches with an open mind.
Lena Emde – Facebook Ads with little budget, but clear success
Another highlight was given through the presentation by Lena Emde, Project Manager Digital Marketing of easyApotheke co-operation mbH. Who wouldn't know? Facebook ads ought to supply the highest possible benefit, preferably adding profit, but with the lowest possible budget. Lena herself works with comparatively little budget and was therefore able to provide great insights into her work. Her advice: Ads with different campaign objectives building on each other. That is how she promotes her own site in a multi-staged budget-friendly way and still achieves her goals. The first step lies in creating a campaign for generating attention. Followed by a traffic campaign including everyone who interacted with the first ad. Afterwards a third campaign for the achievement of objectives such as a conversion campaign is completing the process. Another hint: Use the suggestions from Facebook for optimizing the budget of the campaign.
In summary, it was an exciting presentation and I wish I would have been able to go into the discussion deeper. However I had to acknowledge the basics of Social Media – paid or organic – were not as well-known as I'd hoped. The speeches often needed to start off with introductory skills in order to meet the broad mass of visitors.
After three interesting lectures, it was lunchtime. The food was delicious and I was finally able to connect with other viewers. I held friendly conversations and could contemplate my sessions. After another hour, it was time to move on with the agenda.
Panel Discussion: Jobs in Social Media – Between Specialists and Multi-Talents: What you have to be skilled in and what you can do without!
After lunch break, a panel discussion awaited us. We were welcomed by Andreas Berens and his guests Pia Reber from Krones AG, Patrick Naumann from Siemens, Mustafa Benali from WDR, Vivian Pein and Prof. Dr. Benjamin Gust from the TH Mittelhessen. They talked about the different demands on the profession of a Social Media Manager and how these demands are met in their companies. Since the career as a Social Media Manager is still very new, it was really interesting to see how job requirements can vary depending on the companies' needs.
Stefan Evertz – Competitors analysis – What competition tells about itself and why you should use it
Even though the topic may not appear as exciting as the ones before, this was another highlight. Competition Analysis seems to be an important issue since the lecture was extraordinarily well attended. Stefan Evertz briefly presented various tools that can be used in analyzing the competition. Among them you could even find methods free of charge, which were particularly relevant for me. Finally, we no longer just talked about programs with horrendous prices, but of alternatives that enable at least a part of the analyzing process.
The panel discussion and two lectures were followed by a pleasant coffee break. Unfortunately, this was the end of the day for me as I needed to get back to Leipzig. But due to the video recordings, I was able to catch up on everything I missed by leaving early!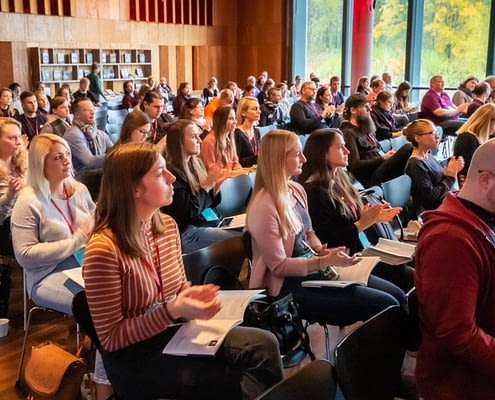 Conclusion
For the first time of the Social Media Marketing Days taking place in Cologne and as for me it was a huge success. Sadly, I could not participate in the workshops the day before. But this is a must do for 2020 since the conference day itself was already a great enrichment on new insights. Surely not every lecture was able to fully meet my expectations. Yet one should not forget each visitor participates with a very different level of knowledge. Fingers crossed – Let's hope there will be many more Social Media Days in the future!
Maria Specht is the social media and content manager at Wundercurves, a company that graduated from the SpinLab program. Her topics are current trend analysis, customer advice and fashion inspiration.