An interview with Martin Gothe on the DC Hub
April 16th, 2018
6 min read
After Miao gave us an insight on China's startup scene from a Chinese perspective, we talked with Martin Gothe from DC-Hub to get an impression from a German professional helping startups to accelerate on the Chinese market.
Could you please give me a short introduction to yourself? What does DC-hub stand for?
I am Martin Gothe, Co-Founder and Partner of DC-Hub. DC-Hub stands for Business and Innovation Hub Germany – China and implemented at the SEPT (Small Enterprise Promotion & Training) Program of the University of Leipzig. It is funded by the Federal Ministry of Education and Science.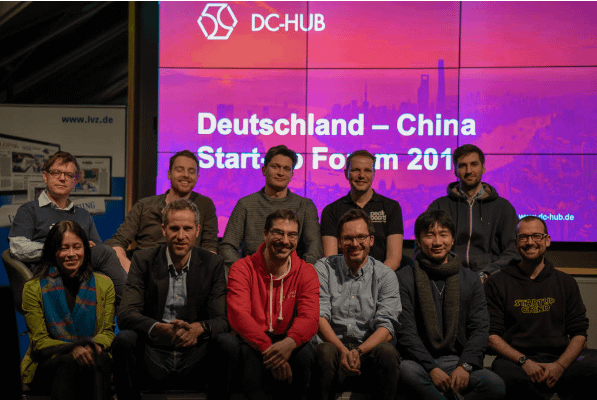 How does the Startup scene in China look? Did it change in the past years?
The Startup scene in China is undergoing constant changes and evolution. Although huge amounts of investments coming from companies such as BAT (Baidu, Alibaba, Tencent), more and more international Funds and VCs eying towards China. More niche Startups start to show up (Xiaohongshu, BonApp! etc.) whereas to general Consumer-focused Startups a couple of years ago, such as Mobike, Meituan, Didi etc. Now we also can see the B2B sector growing in terms of Chinese born Startups. In big Hubs, such as Shanghai, more and more foreign Startups setting up shop as well, in order to make use of the advantages in China e.g. client base, sourcing, regulations, talent.
And what about investors? Are German startups highly sought after?
German Startups are very interesting for Chinese investors, whether they are in Germany or in China. However, we are recommending to think carefully about getting together with a Chinese investor. Startups will learn how to circumvent issues in our DC-Hub Accelerator Class in Shanghai. Chinese early-stage investors that are investing in Germany can be interesting in certain cases.
What do you offer German startups when they plan to go to China?
We offer a comprehensive acceleration on "China competency". I say competency due to the nature of our goal. Our goal is to give young German Startups and Entrepreneurs the tools and skills to deal with China now, and more importantly, in the future. We want them to lose their fear of this imaginary Chinese Red Dragon. This thing is powerful and intimidating, but if you know how to deal with it, you can use it to your advantage respectively! I see so much potential for German Startups.  
For me, it is important that Startups exchange their visions, motivation and ideas and gain an inside view of how Chinese Startups and Entrepreneurs are dealing with innovation and setbacks. It can give you a completely new perspective and ideas that potentially can catapult you forward with your Startup here in the EU.
What are the biggest hurdles for startups? What should be avoided?
Chinese based Investments! When foreign Startups come to China and expecting to find "that money" everyone is talking about or investors lining up for you; this can be disappointing! Why? Our Startups learn at DC-Hub. The other hurdle is the priority of China within the Startups' overall planning and motivation in terms of why they go to China. That China is big, that is a "No-brainer". This doesn't mean it will make you a lot of money selling your idea, product or services in China. Most likely it will cost you a small fortune and then you are still not getting what you expected. First, you need to set your goal right of what you want to achieve with China. Second, you need to make sure that China can help you to achieve it. For a large consumer base, the cost might be too high for achieving enough traction in China, rather than in the EU, US or other regions. In order to get into a relevant position to sell enough in China, for example, you need to adapt to the "Chinese way" of entering the market. If you need an idea, ways to innovate, partner or maybe as simple as sourcing hardware or skills, then China (like Shanghai) might be the place to which you should pay a visit. It is absurdly underestimated how well some of the Chinese "innovation-techniques" can work for certain problems or issues.
What are your expectations of a partnership with SpinLab?
SpinLab can offer a quality channel to Startups that can benefit from a glimpse into this powerful Innovation Scene in Shanghai or Shenzhen / Hongkong. Moreover, we can reach more Startups to offer our support. Since we are funded by the German Federal Ministry of Education and Science, we see ourselves in the role of supporting Innovation and Startups from Germany.
What can you offer especially for startups in the SpinLab acceleration program? What are their benefits?
DC-Hub offers Start-ups exclusive access to the innovation and Start-up scene in China. Together with our Partners P2 and SOSV – China Accelerator, we provide a vast array of opportunities and mentoring for SE Asia and Innovation support. Especially for SpinLab we can provide instant access to quick and cost efficient prototyping at high quality through our DC-Hub Network Partners in Shanghai and Shenzhen.  
Why should startups apply for your acceleration program?
Startups and anyone else that plans to stay ahead of the entrepreneurial game should apply. Simply due to the fact that China is just getting started! I know it sounds strange since the public perception of China and its economy is diffuse and sometimes even pictured as declining. Long term and in the big picture, China is marching strongly towards their +30% global GDP share it once had around 200 years ago (18.23% in 2017). So we can expect to deal with China even more in the future! We also want to narrow the gap of understanding the other (business) culture. From a Chinese perspective, they are learning everything about the west that they can get their hands on for 30 years. The majority in the west still is confident that it is not necessary to engage with the matter of subject that is China! A huge disadvantage when you suddenly are faced with someone who has a "30 years learning advantage" over you. Last but not least, Startups also should apply for DC-Hub if they are already having any connection with Asia and C
After working for various startups in Leipzig where he focused on sales development and value selling, Dennis now supports the SpinLab. He studied Applied Media Science and wrote his bachelor thesis at IBM Germany about software based knowledge management and collaboration.