How do I find the right crowdfunding platform for my startup?
Für die deutsche Version dieses Artikels, kann man hier clicken.
Crowdfunding has been a popular funding option for years in other countries and is finally starting to gain more traction in Germany as well. Much has happened in here since 2011, when Seedmatch entered the German market as the first crowdfunding platform for startups: today the industry database crowdinvest.de counts 2,079 crowdfunded projects in Germany with the total volume of roughly €733 million (last update: 15.02.2019). In addition to platforms for funding startups and emerging growth companies, numerous other providers have since established themselves in the areas of green investments and real estate financing. In this rapidly expanding market, it's not easy for entrepreneurs seeking funding to keep track of all the developments. That's why we've put together this article, which will explain the different types of crowdfunding, explore the compatibility of crowdfunding with other funding options, and tell you what startups should pay attention to when deciding on the right platform for their funding campaign.
The different types of crowdfunding
The term crowdfunding refers to when a number of people (or "crowd") co-fund a project. However, this generic term does not define in any detail the nature of the project being funded, the concrete funding model, or the contractual conditions for the people who are giving or receiving the funds. In this article, we focus on two types of crowdfunding that are particularly relevant to new companies: reward-based crowdfunding and crowdinvesting.
Reward-based crowdfunding is when people give a company money to develop a product and receive something in return – for example, the product itself or a different, usually material thank you. The company does not have to pay the capital back to the crowd. Reward-based crowdfunding makes the most sense for early-stage startups that have to finance product development and rely on additional funding on top of their seed capital. In order to be successful, however, the companies have to offer a product that interests many people and that they are keen to push forward. B2C products and business models as well as startups that already have a big fan base have an edge over others here.
Crowdinvesting, by contrast, is a type of financial investment whereby small investors give capital to an emerging company in order to – depending on the funding model – get it back with interest and/or profit based on the economic success of the company, say, in the form of bonus interest payments arising from profits or an exit. The length of the loan contracts and the way possible interest payments are regulated can vary depending on the crowdinvesting platform and are specified in the contracts between the company and its investors. The risk for small investors is that they could completely lose the capital they put in if the company they invested in files for bankruptcy or has to be liquidated.
Crowdinvesting combined with other funding options
The investments a startup receives with crowdinvesting are usually structured as a subordinated profit-participating loan (German: partiarisches Nachrangdarlehen). That means that investors have a share in the company's success (=profit-participating), albeit without voting rights. Furthermore, in the case of bankruptcy or liquidation, these investors' debts have a lower priority in the hierarchy of debt holders (=subordinated). The finance model of crowdinvesting is thus optimized for follow-up funding of all kinds, including bank loans, publicly subsidized funding, or funding from venture capitalists or business angels.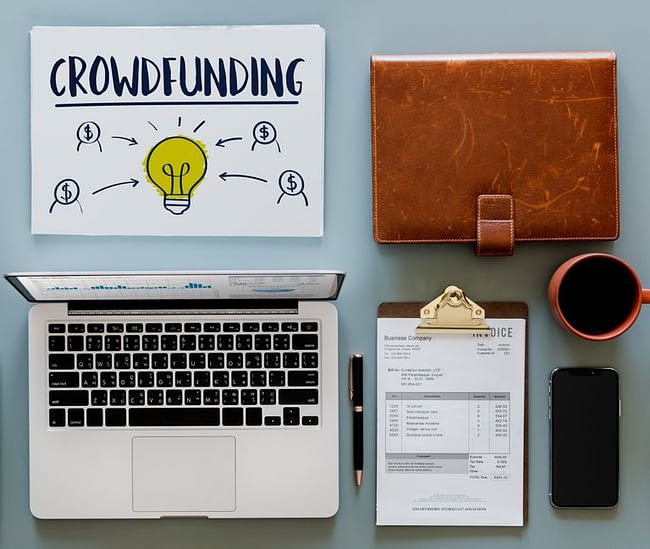 Numerous startups financed via the crowdinvesting platform Seedmatch received funding from venture capitalists or business angels before or after their Seedmatch campaign – some of which was even structured as a co-investment with the crowd parallel to the campaign. But venture capitalists and the like are not the only option for securing follow-up funding. After positive experiences in the first round of funding, many companies decide for another crowdinvesting campaign. The advantages are evident: first, the company is already familiar with the process; second, it can count on investors from the first round: a loyal group of influencers who often reinvest and also encourage peers in their network to make an investment.
Criteria for picking the right type of crowdfunding platform
If you're sure crowdfunding is the right funding option for your startup, but aren't sure which crowdfunding platform makes the most sense for your company, here's what you need to do:
1. Ask yourself the right questions
Before you make your decision, you need ask yourself a few questions about your company and the expectations you have of a crowdfunding campaign. These might be:
Where does my company stand in terms of its development? Do I need funding to design a prototype or make my product vision a reality? Or can I already demonstrate a fully developed product or even initial sales? Depending on your answer, you can figure out if reward-based crowdfunding would make sense for you for now or if your startup is ready to go for crowdinvesting.
Do I choose a specialized platform or a platform with a wider reach? Today there are crowdinvesting platforms that focus on a specific industry, such as life science startups. The advantage here is that, in general, a company can present its product and business model to a group of investors who already have expert knowledge in the respective subject area. This sort of platform is particularly advantageous for niche products or products that are harder to explain. By contrast, platforms that are not industry specific have a higher number of funding campaigns and users, and take in more capital that they can then invest in user growth and expanding its reach. This situation is not only beneficial to startups with B2C products but also to B2B business models that could be potentially useful in a number of companies. Because small investors are not only individuals, but also influencers in their respective work environment.
2. Compare the platforms' track records
How well are the campaigns doing on the platforms you're interested in? Do most campaigns achieve their funding goals? Or do they often fail to secure the funding they need? Platforms demonstrate varying levels of stringency when it comes to vetting startups before deciding to carry out campaigns with them. A platform with stricter criteria may result in fewer funding campaigns than its competitors, but thanks to a more thorough selection process, such projects may earn greater trust from small investors and increase the chances of achieving the funding goal. That is a huge advantage: because whoever puts in the time and effort to organize a crowdfunding campaign would like to be rewarded for that with as much capital as possible. One place where you can see more about German platforms' track records is crowdinvest.de.
3. Ask around
You're not the first person who's wanted to start a crowdinvesting campaign – many others have traveled this path before you. So what's better than asking people who have firsthand experience with this funding model? Go to the platforms you're interested in and check out the completed campaigns. Can you find a company where you have a contact? If so, get in touch with that person. If not, take advantage of any one of the numerous startup events and networking meetings in your region to talk with other founders.
4. Get to know the platforms better
Of course, crowdinvesting platforms themselves can also answer your questions. Basic questions can often be answered by telephone or e-mail before applying. If you've submitted a short application (usually your pitch deck) and the crowdinvesting platform has evaluated it positively, you can progress to a more in-depth exchange during which you can ask any and all questions you have. It's important that they tell you, for example, how the campaign process goes, what services the platform provides, what efforts and resources are expected on behalf of the startup, how the contracts are structured, and what costs you will be responsible for regarding implementation. Last but not least, it's also very important to have the right chemistry between startup and platform: you should feel like you're in good hands. Because during the organization and implementation phases of the campaign, and frequently even after it is completed, you will be working closely with the platform with the goal of securing the continued success of your startup.
We wish you the best of luck with your crowdfunding campaign!