2019 Analytics Summit Recap: How can this conference help your startup?
November 15th, 2019
8 min read
You can't change what you can't measure!
If you're a data analyst, marketeer, business intelligence specialist or simply interested in web analytics, you can't really get around the Analytics Summit. It is the biggest Google Analytics conference in Europe, hosted by Trakken and covers a wide range of topics surrounding Google Analytics, Tag Manager and their brothers and sisters in the Marketing Platform.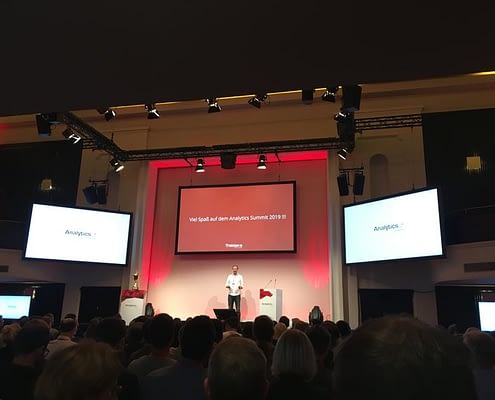 This year's summit kicked off with a warm welcome by Trakken founder Timo Aden, who proudly announced that this year was already the 8th summit. He then went on to present the history of Google Analytics and its Premium version and surrounding platforms.
He was followed by a pretty basic overview of Google Analytics for Firebase, the App Analytics Tool, which was presented by Google's Global Product Lead James Cote. He also announced that while up to now Web and App have been two different channels that were to be measured on two different platforms, Google just introduced Analytics for Web+App, where you can join the data of the two channels. Later that day, a colleague of his went into this new development in further detail.
Next up was John Keiller from Canyon Bicycles, who explained how Canyon uses data from onsite search to define new potential markets or categories or how stock availability can decisively influence your conversion rate.
Attribution and tracking of transactions on partnering pages
After a short break, the conference split into two separate tracks, always covering one topic of intermediate and one of advanced level at the same time. Overall, I have to say that almost none of the advanced keynotes where crazy advanced. I'm just saying that because last year I thought I wasn't ready for the summit when in hindsight I definitely would have been. So, don't be shy to attend even if you're relatively new to Analytics.
I chose the advanced session for the next slot, which dealt with attribution modelling. Held by Simon Ritter of Tectumedia, this keynote was one of my three highlights of the day, as he deep dived into the topic attribution and gave a pretty good overview in is 30 minutes.
What I especially liked about him is that he didn't try to sugarcoat things. For example, he was very clear that attribution is not a way to earn more money, it is merely a tool to look back and see if money was well spent in a certain channel if it should maybe be moved to a different channel. Also, he emphasized that your attribution can only ever be as good as your data quality and that misinterpreting the won data is a very common thing.
He also showed a mildly discouraging graphic that basically said that only 6% of data points are used for attribution while 94% is usually ignored. He also recommended not to use attribution models that you don't fully understand, as this black box can lead to insights that you can't really work with in the end.
The following keynote was of special interest to me as an Affiliate person: Yuanji Wang offered valuable and actionable insights as to how HolidayPirates, an affiliate traveling site, tracks transactions on their partner's sites. This is a common problem for any affiliate platform: the analytics data from your own website only gets you so far if you don't know if a click to a partner's website actually resulted in a conversion.
Yuanji showed HolidayPirate's rocky path to tackling that challenge in three steps: First, they got access to their partner's GA accounts only to find that they had too many accounts to consolidate and handle. Next, they introduced cross domain tracking only to find that this setup was too complex for most partners to implement. Next step, which they are currently beta testing is a backend API and a script on the partner's confirmation page that work hand in hand to ensure that both client ID and transaction data are transferred to the HolidayPirate backend.
This was a very specific talk but of utmost importance to me and my company, therefore I was quite grateful for it.
In comparison to this talk, which got quite tech-y with showing multiple slides of code, the following talk by Project A's Ole Bossdorf on Custom Dimensions in Analytics was rather intermediate in its standard but surely offered valuable ideas on how to use custom dimensions to those who haven't unlocked the power of custom dimensions yet.
Then came the most important part: lunch! :-) Timo Aden mentioned in the beginning that he is aware that some attendees only come for the food and I see why that is. Then again, while meat, dairy and fish eaters were very well accommodated, there was no warm vegan dish which made my vegan colleague very sad.
You can't spell measure without communication
Lunch was followed by my favorite talk of the day: Simo Ahava's very fundamental keynote titled "You can't spelll measure without communication". For those of you who don't know Simo, he is basically the guru of Analytics and Tag Manager and many speakers that day referenced his blog when talking about how they found solutions to their problems.
Seeing that his blog already contains all the topical stuff there is, Simo decided to talk about a more underlying aspect of analytics: that most data quality woes are the result of poor communication within the team. He kicked things of by showing the astonishing fall of Nokia phones which in his opinion was mainly due to communication or rather, the lack thereof.
He showed a quote of a Nokia executive that basically said after the introduction of the iPhone that Apple phones will remain niche just as Mac computers did. Oh, how painfully wrong that assessment has been! Simo then went on to explain how different departments usually communicate in projects, everyone doing their own thing, and how it is better do be done by including every department right from the start, doing daily and weekly standups, working transparently and agile.
He finished off by saying that of course not everyone has to become a scrum master now, but that it was ultimately the right organization form for all successful projects.
Hacking Analytics
Next up was the Google Analytics Challenge, where 4 contestants could show how they "hacked" Google Analytics. Spoiler: the winner of the challenge, that was officially crowned later that day, was also my favorite, Thomas Langnau: he developed a Chrome Add-on showing you several important Analytics metrics at one glance. You can download it for free here: clicks.de/ga-addon-chrome.
The rest of the day covered two topics on the advanced track that dealt with the Google Marketing platform in combination with Google Cloud, one by Jürgen Fath of Migros, who
basically explained how corporate groups like Migros can combine data of and make it useful for all their sub-companies. Ralph Stamm from Allianz explained how they used the GMP and GCP together to makes sales predictions in their field of insurance.
Apart from the cringy amount of songs used in his presentation, he offered some interesting insights into how to use data to predict your sales needs and how to predict a transaction before it has happened.
Conclusion
In summary, I can say that I definitely learned a lot that day and I got lucky when it comes to the topics chosen. An issue for me personally was that some of the talks were either a little too basic or covered topics that only concerned users of the premium features, which my company doesn't. But that is a very subjective way of seeing this conference, as I'm sure and I could witness that it was very valuable for many other attendees with other business models or usage of Google tools.
Maja Oertel is the marketing manager at Wundercurves, a company that graduated from the SpinLab program. Her topics are CRM, marketing, user experience and testing as well as customer satisfaction and loyalty.